Storage Units for Rent - LockUp Storage
LockUp Storage offers, self Storage snits and free follection servicing KwaZulu Natal. Servicing Pinetown, Kloof, Hillcrest, Durban North, Umhlanga and surrounding areas
GOT STUFF?
NEED SPACE
providing Self Storage in Pinetown, New Germany, Durban North, Umhlanga and Ballito.
storage to meet
all your needs
Our Lock Up Storage branches in Pinetown, New Germany, Durban North, Umhlanga and Ballito offer safe and secure Self Storage units in a variety of sizes. Our storage units are perfect for Student, business or personal use. Moving house, renovating, storing documents or making extra space in the home or office, our Lock Up Storage family will help you rent the correct amount of space that you need. No matter your need, our secure, clean and dry Self Storage units will provide you with the month to month solution that you are looking for.
If you are unsure about how much space you require, or the exact size storage unit that you will need at Lock Up Storage, you can use our handy Space estimator or call one of space experts. As we rent month to month storage units from 3m2 up to 56m2.
OUR BENEFITS

---
Month to month rentals

---
safe and secure storage units

---
as little, or as much space as you need

---
locations throughout KZN

---
free removal for storage over 90 days
FREE COLLECTION! WHAT?
THAT'S RIGHT, WE COLLECT YOUR GOODS AND MOVE THEM INTO OUR STORAGE FACILITIES FOR FREE!
So you've rented a storage unit at the facility closest to your house, fantastic! But how are you going to get all your stuff there in your tiny car? Yes, it's not actually possible.
Ok no problem, you'll just phone the self storage company and ask them to help you out, coz that's what they said they were there for wasn't it…to help you? But all you get is the manager telling you that you must go and spend more money hiring a trailer, moving your lounge and fridge and washing machine by yourself (hope you ate your oats). Then transport it to the storage facility, and oh yes, unpack it again into your storage unit. I can think of better things to do with my Saturday!
And that's why, at Lock Up Storage, we say "Don't pay more, we'll come to your door!" That's what I would like from my Self Storage provider, and so that's why we provide it. FREE, that's right, FREE collection of your goods with our in-house removal truck and team to all clients staying over 90 days!
And what about moving your items back, or perhaps to your new address once your house transfer has gone through? Well of course, you just let us know the distance and we'll let you know the price. Simple and Easy service!
* We collect your goods for free within 40km from our sites. And free if you are storing with us for over 90 days.
Because we understand that moving can be one of the most stressful parts of life. So our professional in-house removal team will come and collect your goods for FREE and move you into your storage unit while you sit back and relax. Now that's what I expect from a TOP DOG Self Storage company!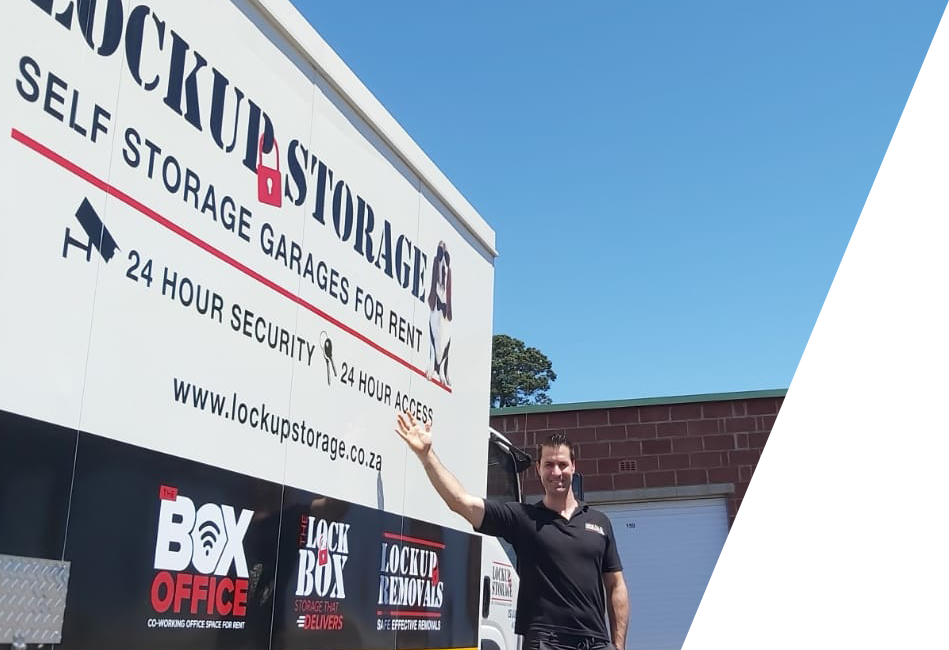 Meet the boss
James Visser is the owner, operator and on-site man for Lock Up Storage. He's the space expert that will put NASA to shame. Claims to have only worn long pants once in his lifetime. And says that a 'Boardroom' is called that for a reason.
You can find James on one of his Lock Up Storage locations (Pinetown, New Germany, Durban North, Umhlanga or Ballito) any day of the week. Building, cleaning, planning or carrying, there is no job too big or small that he won't tackle. He eats and sleeps Self-Storage in his home town of Durban. As he knows whether you are relocating, renovating or decluttering, it's stressful! And that's why in 2020 James added free removals to any Lock Up Storage location as part of his offering.
TESTIMONIALS
"For nearly 10 years I worked with the Robin Hood Foundation, we had almost daily visits to the lockup storage they rent on the Pinetown Surprise Road premises where we stored and sorted donated items from the community. What a wonderful team! From the friendly and helpful security guards who sign you in and always greet you with a smile, to Liam and the team in the office who are always there to help. Last year's upgrades to the premises were fantastic too ensuring that we could 'grab a coffee' or stop in at the always neat, tidy and clean ladies room facilities when we were packing and sorting. We even had times where we needed to print something and Liam and the team were more than accommodating! I've also referred James and his team to numerous friends and family and had fantastic feedback of how they went the extra mile. Well done Pinetown Lock up Storage team! You'll always be first on my list to refer!"

Kim Griffith Jones
Robin Hood Foundation
"The best storage units in Durban!As Awali Solutions we fell inlove with this establishment the 1st time we saw it. The staff is welcoming and very well mannered. The service is excellent.The storage units are neat, spacious and well maintained. James and his team provide a great service and the hands on approach makes it feel like you have stored your items in a Private Storage Bank. They are the best Storage Units in Durban."

Simiso Sokhela
Managing Director
"I just wanted to thank James and his team for the excellent service we received! It was a pleasure to deal with their team – from the paperwork for signing up for the monthly storage, to the efficient team that arrived and loaded all our boxes and furniture with a smile! They even had to take a massive whiteboard over the roof to get it out, and even that did not phase them at all. Very rare in this day and age to get such good service, thank you!"

Alice Leah
Operations Manager
"Ukuphila Okuthinta NPO was founded on 03 Aug 2018. We are registered with SARS as a PBO. We assist underprivileged school children with school uniform and stationery. As a NPO we are dependent on donations to remain in business. We have been at Lockup Storage since April 2019. The Lockup Storage office that we have provides us with an office space that is ideal for our needs as well as our budget. The rent for our office space includes access to a small boardroom at no additional costs. The staff are very efficient and friendly and we have had no issues that we can complain about."

Charmaine Hansraj
Chairperson
Previous
Next
100% KZN Owned
Our Lock Up Storage Durban KZN branches in Pinetown, Durban, Umhlanga and Ballito offer safe and secure Storage units in a variety of sizes.
For Self Storage, please feel free to visit us at one of our locations, get a free quote or give us a call on 031 701 0481